Artificial intelligence and virtual reality: mostly science fiction, right? Cool technologies, sure, but still something for the distant future?
Sorry, but no. Your clients may not be using either AI or VR yet. But chances are good they will, and soon.
The latest moves from Facebook, IBM and Intel illustrate just how quickly VR and AI have moved from science fiction to business fact.
Facebook Spaces
At its big F8 2017 developers conference in San Jose, Calif., Facebook yesterday introduced Spaces, a VR app that lets friends hang out in interactive virtual environments.
To use Facebook Spaces, consumers will need the Oculus Rift, a VR headset. The Space app, currently in beta, is now available for free in the Oculus Store.
Users of Facebook Spaces will be able to create virtual versions of themselves, then invite other Facebook friends to join them. They'll meet in virtual environments where they can interact with videos and photos, make video calls, and more. Here's a look, courtesy of Facebook: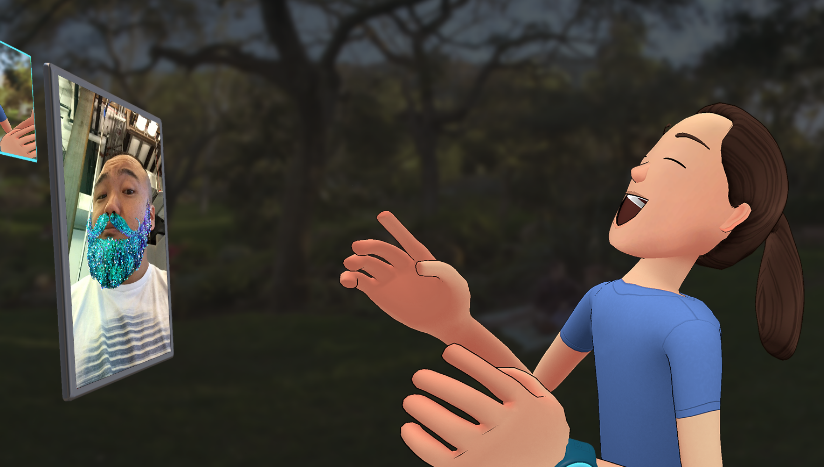 Facebook Spaces lets friends with VR headsets hang out in virtual environments.
While Facebook is positioning Spaces a social hangout for friends, couldn't FB Spaces also be used for virtual team meetings. Say, among colleagues working from different locations around the world? 
IBM Watson
You probably already know that IBM's Watson, an advanced AI system, can beat humans at Jeopardy, chess and other games. But did you know Watson is now a multibillion-dollar business?
IBM reported its Q1 financial results yesterday, and among the revelations was the fact that its Cognitive Solutions group, which includes Watson-related offerings, had quarterly revenue of $4.1 billion. That's a whole lot of Watson.
IBM Watson is now being used by a wide range of companies for mainstream business applications. These companies include Reimagine Food, Harry & David and Performance Bicycle.
To be sure, IBM's overall financial picture in Q1 was more mixed. Revenue fell in the company's other 4 main business units — in one case (hardware systems) by as much as 17 percent.
But IBM's cloud picture was, um, far sunnier. The company said its cloud-related revenue in Q1 rose by a massive 33 percent. And for the last 12 months, IBM says, its cloud revenue totaled an impressive $14.6 billion.
Intel Marketing
AI is the theme of a new TV ad produced by Intel as part of its latest B2B marketing program. The ad, entitled "Artificial Intelligence," began airing in the U.S. yesterday.
The ad features actor Jim Parsons, best known for playing the role of Sheldon Cooper on the TV series "Big Bang Theory." Here playing himself, Parsons sits on a moving train and holds a conversation with a character personifying the Future. "How come no one likes me, Jim?" the Future asks, to which Parsons replies: "Intel does. Just think of everything Intel's doing right now with artificial intelligence."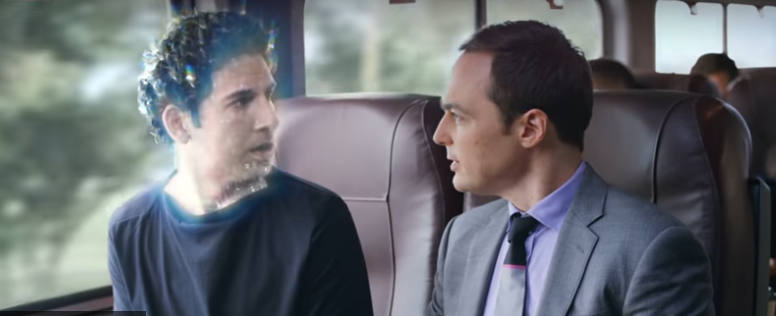 "How come no one likes me?" the Future asks Jim Parsons in a new Intel ad.
Intel says the ad springs from its own research with senior business executives. One thing Intel discovered was high anxiety. Business execs told the company they're worried about the future, and about being outpaced by tech.
The new ad aims to reassure them. Toward the end, Parsons points his chin at a nearby passenger and tells the Future: "Pretty soon, AI is going to help executives like her see trends to stay ahead of her competition. No more sleepless nights."
So AI and VR aren't science fiction anymore. They're real business tools being used by real businesses, your clients included — if not now, then likely soon.
See related content:
Intel's ambitious AI plans gain focus with 2 new deals
Is Amazon Web Services taking over the data center?
Smile! Surveillance systems are getting smarter
Back to top