The wearables market is growing fast.
How fast? More than 310 million wearable devices will be sold worldwide this year, predicts research firm Gartner. Assuming that's correct, it will mark an increase over last year of nearly 17%.
That's plenty fast. And looking ahead, industry analysts see more of the same. They predict that sales of wearables will continue to increase year-over-year for the foreseeable future.
Watch the watch space
Smartwatches are fast becoming de rigueur as each new generation of digital natives outfits itself with the latest tech. Gartner research director Angela McIntyre says the Apple Watch and its competitors will bring in more than $17 billion of revenue by 2021.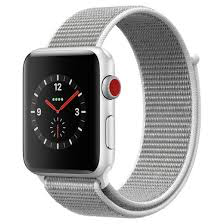 Apple Watch Series 3 can make calls, send texts without a phone
Apple Watch — which now includes GPS and integrated cellular connectivity — is still the most popular game in town. But it's not without mounting competition.
Of particular note are two fast-moving sub-categories:
> Smartwatches designed for kids between the ages of 2 and 13
> Smartwatches produced by traditional fashion brands including Fossil, Tag Heuer, even Louis Vuitton
It's all in your headset
While smartwatches may be the most talked-about wearable tech of 2017, the undisputed heavyweight of wearables revenue remains the humble Bluetooth headset.
Why? Because mobile phones are shedding their headphone jacks. This forces users to either carry an adaptor or switch to a wireless setup.
Some 150 million Bluetooth headsets will be sold this year, according to Gartner. That number will head well north of 200 million by 2021, by which time the lowly headphone jack will be considered as anachronistic as the rotary telephone and floppy disc drive.
Shopping for wearables
Wearables aren't just appearing on the shelves of retail stores, they're also appearing on retailers themselves. In fact, a significant portion of the increase in wearables revenue can be attributed to a new generation of bionic salespeople, reports ABI Research.
One of the more interesting applications is the use of smart glasses in the retail sales space. It's part of an effort to help brick & mortar retailers stave off competition from the likes of Amazon.
One cool example: developer GoInStore has engineered what it calls a "first-person shopping experience" for online customers.
Using GoInStore's combination of wearable tech, high-performance servers and AI, home shoppers can look around a physical store from the salesperson's point of view. They can also virtually experience physical products, ask questions and receive personalized demos.
A salesman wearing GoInStore's smart glasses shows a guitar to a home shopper
Consumers once looked askance at wearables that didn't have enough functionality to offer a compelling value proposition. But subsequent generations of wearable tech are fast becoming as important as the mobile devices they will one day replace altogether.
So put on your smart glasses, and keep a close eye on this market!
Back to top