Virtual reality — overhyped since the 1980s, right? No, not any more.
The technology behind VR was always cool. But now VR is finally becoming the basis for a real business. And a big business.
How big? How about more than 1 million VR headsets? That's the number shipped worldwide in this year's third quarter, according to new figures from market watcher Canalys. It also says this is the first time ever that VR headsets have passed the 1-million-shipped-per-quarter mark.
Looking ahead into next year, another market watcher, IDC, predicts that worldwide spending on both VR and augmented reality (AR) will nearly double from this year.
Nearly double: Wouldn't you like to be part of that market?
Let's break it down further.
VR headsets in Q3
First, those 1 million VR headsets shipped in the third quarter. The impressive thing, according to Canalys, is that more than 85% of those devices came from just 3 suppliers.
Leading the pack is Sony. It shipped 490,000 PlayStation VR sets in Q3:17, according to Canalys, grabbing nearly half the worldwide market.
Next came Oculus, which shipped 210,000 Rift headsets in Q3, according to Canalys. Third place was taken by HTC, which shipped 160,000 of its Vive headsets.
Lower prices are definitely helping. As Canalys points out, Oculus cut the price of the Rift headset to about $400, the same as the Sony PS VR. It worked. Now Oculus has introduced another VR headset, the Oculus Go, that will retail for half that — $200. The Oculus Go is set to ship early next year.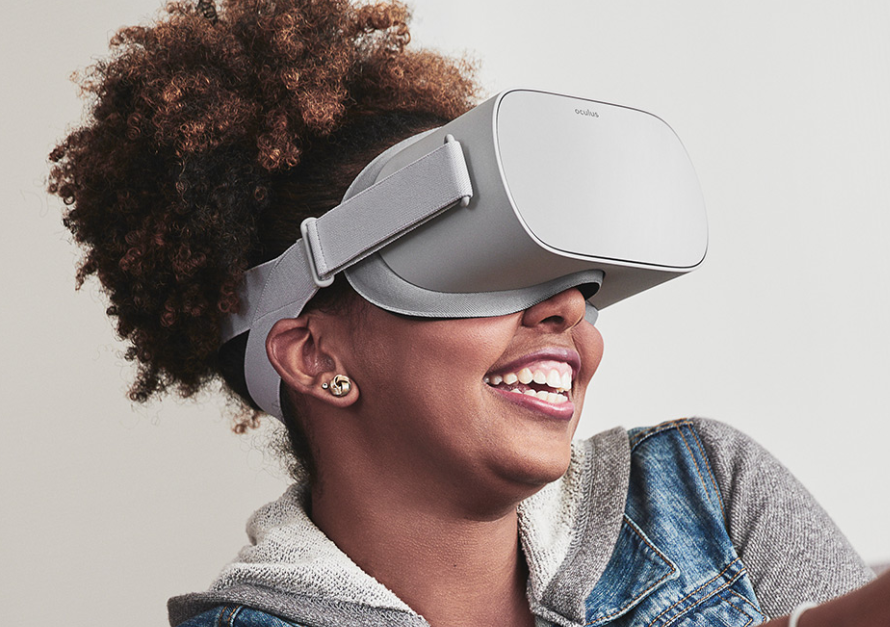 The Oculus Go headset: set to ship in early 2018 with a starting price of $199
Another positive factor has been the market entry of mainstream PC companies, including Microsoft, Acer, Asus, Lenovo and Dell. Microsoft offers the Windows Mixed Reality platform. And as we've reported, those hardware suppliers recently introduced Windows-compatible VR headsets that will retail for about $450.
VR future 
Looking into the VR future, market watcher IDC now predicts that worldwide AR and VR sales will hit $17.8 billion next year. This year, IDC expects, VR/AR sales will reach about $9.1 billion worldwide. Assuming both numbers are correct, that 2018 figure will represent a year-on-year spending increase of 95%.
One reason for the strong growth: VR systems in the coming year should attract both consumer and business buyers. For businesses, big VR applications should include product design, retail sales and employee training. IDC believes just one commercial VR application — retail showcasing, both in physical stores and online — will account for 2018 spending in excess of $950 million. That's real money.
AR should also appeal to both consumers and business users, though the form factors may differ. For consumers, IDC expects to see mobile AR on smartphones and tablets. While for businesses, on head-mounted displays.
Are you among those still pooh-poohing VR technology? It's time to stop. Virtual reality is real. So is the business you could be part of.
Back to top