Artificial intelligence: extremely cool, but also extremely complex. All that complexity can really slow things down — not what you or your customers want.
Fortunately, Intel has come up with an equally cool solution: Add the company's Optane SSD (solid-state drive) storage devices to your AI pipeline. And unlock the value of your customers' data.
These SSDs can also help your customers cut their storage costs, lower their floor-space requirements, and make their operations more efficient. Nothing complicated about that.
Through the AI pipeline
AI systems can get sluggish because there's so much going on. To deliver an intended result, the data has to first move through an AI pipeline comprising 4 main segments: 
1) Ingest: To start, data gets received as input from multiple sources.
2) Preparation: Next, the raw data collected during Ingest now gets structured, cleaned and enriched.
3) Training: Here, an AI model is developed using analytics.
4) Inference: Payoff time! You model the analyses and act on new data in real time.
Adding to the complexity, as the data moves through this AI pipeline, its volume, velocity and variety change. For example, during Ingest, raw data comes in petabytes… then gets Prepared in gigabytes, and in both structured and unstructured formats…and finally end up as kilobytes' worth of Trained models.
Workloads can vary too. During Ingest, the work is almost entirely writes. During Preparation, things switch to 50-50 read vs. write. And in Training and Inference, it's more like all read, all the time.
A simple solution
Intel's simplifying solution? Create a common data pipeline that underlies the 4 pipeline segments. Then boost this with 2 additional tiers: one for space-efficient capacity and scaling, the other for performance storage and scaling.
Beneath it all, place a data lake or media store. This acts as a central repository for all data, whether structured or unstructured, and at any scale. Here, courtesy of Intel, is how this solution can look: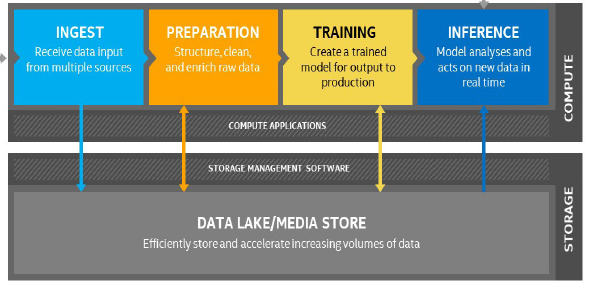 Intel Optane SSDs can speed things up at each of the pipeline's 4 stages. During Ingest, the drives can create a buffer that lets you scale with both high write performance and low latency (and lower latency is better).
During Preparation, Intel Optane SSDs deliver speedy read/write performance to cut the time needed.
Training gets a boost by the Intel Optane SSD's high random read throughput and low latency, as well as its ability to accelerate temporary data during modeling.
And with Inference, Intel Optane technology can speed trained models, even at the edge.
Faster storage, faster AI training
So much for the theory. You probably want to know how Intel Optane SSDs help AI in the real world.
Consider Baidu. The Beijing-based technology company has created storage systems for its AI Cloud solution that combine Intel Optane SSD and Intel 3D NAND QLC SSD technology. This high-performance, all-flash object storage solution provides strong, reliable support for Baidu's private-cloud applications, including AI training.
Baidu knows a great deal about data storage. After all, the company's total stores come to some 2,000 petabytes (PB), enough for over 100 billion pages of text.
But AI training presented the company with a new storage challenge. This step of AI involves a long list of data sub-processes, including collection, cleaning and labeling, resizing, modeling, evaluation and prediction. Each of these processes requires a storage system to read, write and retrieve operations. And to do so very quickly.
Baidu met the challenge with 2 Intel storage products: the Intel Optane SSD DC P4800X for core storage systems including cache, MDS and log system; and the Intel SSD D5-P4320 for large-capacity data store.
Not only has this combination met Baidu's technical needs, but it's also lowered the company's total cost of ownership. Baidu's own tests show the solution could lower TCO by 60%.
Speedy AI
Need to put the speed back in your customers' sluggish AI setups? Then check out the Intel Optane SSDs.
To learn more about Intel Optane technology, check out these resources:
> Read the Tech Brief: How Intel storage accelerates AI deployments
> Browse the product page: Intel SSD data center family
> Read the Baidu case study: Redefining object storage to create a high-performance all-flash solution for AI, big data, and HPC applications
Back to top