What's going on with wearables, enterprise software, commercial robots and automated services? Here's your tech provider's summary of some of the latest market research and surveys.
Wearable bands
The worldwide wearable band market has become a 3-way race among Apple, Xiaomi and Fitbit. And in the third quarter of this year, it was a race won by Apple, according to a new report from market watcher Canalys.
Canalys says that in Q3, Apple shipped a total of 3.9 million wearables, thanks in part to the release of its Apple Watch Series 3. By comparison, Xiaomi shipped 3.6 million wearable bands in the quarter, and Fitbit shipped 3.5 million.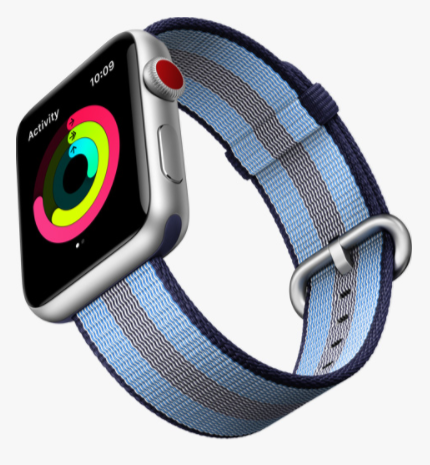 The Apple Watch Series 3 helped the company take the lead
Looking ahead, Canalys says top phone vendors are trying to position their smartwatches as phone companions. This group includes Samsung (the world's smartphone leader by units sold), Apple and Huawei.
In essence, these phone suppliers are trying to create brand ecosystems that offer  phones, wearables, audio accessories and software. The larger goal: customer loyalty.
Intelligent automation & jobs
Can automation really replace jobs? Yes, where it's less expensive than people, says a new report from research and advisory firm Gartner.
One such area: managed workplace functions such as service desk. There, what Gartner calls "intelligent automation services" can be up to 65% less expensive than already-inexpensive offshore humans.
That will lead, Gartner believes, to service desks being "manned" 70% by automated services, just 30% by humans, and perhaps by as soon as 2021.
Enterprise software
Think end users love their enterprise software? Think again. A new survey finds nearly 1 in 5 hate their software. That's right, hate.
This survey was conducted by Unit4, a provider of enterprise software, and it reached more than 1,000 U.S.-based professionals. Here's some of what the survey-takers said:
When asked how they felt about the enterprise software they use:
> 76% selected "meh"
> 17% selected "I hate it with the power of a thousand suns"
> 7% selected "I'd sooner give up my first-born that stop using them"
(Obviously, the survey's creators had a sense of, um, humor.)
When those surveyed were asked to describe their overall sentiment toward their enterprise software, a full third (34%) said it was negative. That was the total of:
> 20% who said the software makes their workday more difficult
> 8% who said technology makes their lives miserable
> 6% who have actually considered quitting their jobs because their IT systems are so inadequate
"Clearly," said Unit4's CEO, Stephen Sieber, "this survey shows the industry might be taking end-users for granted."
Robots for business
Roomba aside, most robots are used in factories and other workplaces. Looks like that's going to continue for a while. The worldwide market for commercial and industrial robots will triple over the next 8 years, predicts ABI Research, from $15 million this year to more than $48 million by 2025.
Roomba: a clean machine, but not an industrial robot
Some commercial applications for robots will be innovative. For example, one company noted by ABI, Resson of Canada, is developing commercial drones for agriculture — or, as the company calls it, "data-driven farming."
Another supplier, Intuition Robotics, is an Israeli company that offers robots including Eli-Q, an "active aging companion" for elderly care.
Another innovator cited by ABI, Franka Emika of Germany, offers "co-bots," robots designed to physically interact with human workers in a shared workspace. Its offerings include a model called the Panda, which Franka Emika describes as "the sensitive, interconnected lightweight robot for everybody." 
Back to top