Nearly two-thirds of large organizations are into blockchain. Sales of public-cloud services are poised to grow 21% this year. And wearables, already popular, are going through a transition that could propel them to even greater sales.
That's some of the latest market intelligence from leading IT analysts. Here's your tech provider's update.
Wearables taking off
The wearables market needs a recharge, according to market watcher IDC. While wearables shipments will increase this year, they'll do so at the slowest rate in years — only to pick up again next year.
Here are the numbers, according to IDC: This year, 122.6 million wearables will be shipped worldwide, an increase over last year of 6.2%. Sounds good, except that this will be the first-ever year in which wearable shipments increased by only single digits.
What's behind the slowdown? A market in transition, says IDC. Many basic wearable devices can't run third-party applications. Newer, more advanced devices can.
But next year, IDC expects, wearables shipments will again grow by double-digits. And through 2022, wearables shipments will grow by a 5-year compound annual growth rate (CAGR) of nearly 12%. That's nearly double the growth rate IDC expects for this year.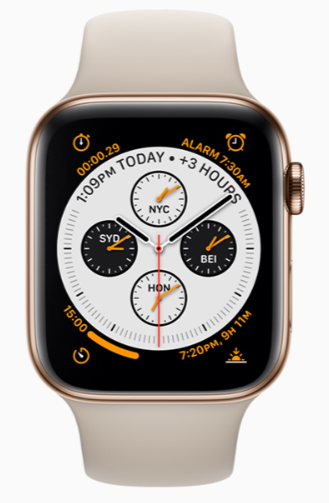 Apple Watch Series 4: losing market share?
On the smartwatch front, Apple introduced its impressive Watch Series 4 this week. But the company's share of the smartwatch market has dropped 14% between the last quarter of 2017 and the first quarter of this year, according to ABI Research.
That's because the smartwatch market is growing, attracting new suppliers that include Samsung, LG and Motorola. "An increasing number of customers are opting for devices other than the Apple Watch," says ABI researcher Stephanie Lawrence.
ABI expects smartwatch shipments worldwide to nearly triple over the next 5 years, from 40 million units this year to over 108 million units by 2023.
Assuming that happens, smartwatches will then also outsell activity trackers. ABI expects shipments of those devices to grow from 52 million units this year to just 67 million by 2023. That would mean smartwatches outshipping activity trackers by 41 million units.
Blockchain hopping
Nearly two-thirds (65%) of large organizations are either considering or actively deploying blockchain, according to survey results released this week by Juniper Research. That's up significantly from a year ago, when the figure was 54%.
Blockchain progress has been pretty impressive. Nearly 1 in 4 companies considering deployments have already moved beyond proof-of-concept into trials and commercial rollouts, Juniper finds.
Payments aren't the only application, either. In fact, Juniper finds that only 15% of proposed deployments are related to payments, down sharply from 34% last year. Instead, respondents say they're looking to apply blockchain to areas that include logistics, authentication and smart contracts.
Public cloud services growing
Looking for growth? Look into public-cloud services.
Researchers at Gartner now predict that the worldwide market for public-cloud services will grow this year by 21%, reaching $175.8 billion. Next year, they expect, the market will grow by an only slightly slower 17% to reach $206.2 billion.
By sector, Gartner believes the fastest growth will come from cloud system infrastructure services, aka IaaS. Sales in this sector are forecast to grow nearly 28% next year, reaching $39.5 billion.
Gartner researchers also believe that 90% of organizations using IaaS will by 2022 acquire these services from integrated IaaS/PaaS providers. As for IaaS-only providers, they'll still exist, but only as niche players.
Back to top