Smartwatches and ear-worn devices will soon dominate the wearables market. Consumers are okay with ads on their smart speakers. And HR execs are tuning into artificial intelligence.
That's the latest from top IT industry watchers and researchers. And here's your tech provider's update.
Smartwatches, earware rule
Within the next 5 years, 70% of all wearable devices will be either smartwatches or ear-worn devices, predicts IDC.
The popularity of these device types will drive the overall wearables market to grow by an average of nearly 8% a year through 2023, the market watcher expects.
Remember Dick Tracy's 2-way wristwatch radio? Well, about half the real-world smartwatches in 2023 will also have the ability to connect with cellular networks.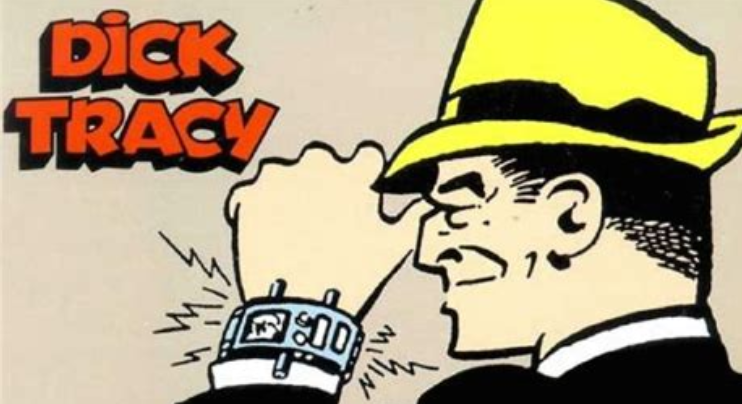 'Dick Tracy, how's the market today?'
As for ear-worn devices, they'll be used mainly for phone calls, but also new applications including language translation, smart-assistant communication and coaching.
Earware shipments should grow by an average of 10% a year through 2023, IDC predicts, for a total that year of over 105 million units.
Smartwatch shipments will grow almost as fast, an average of 9.4% a year. By 2023, that should result in annual shipments of nearly 92 million units, IDC predicts.
Coming soon: Voice ads
Advertising is everywhere, right? Not quite. One frontier remains: the airwaves of voice-controlled personal assistants, smart speakers, and voice apps on smartphones.
That frontier is about to be broached, and consumers say they're mostly fine with that.
In a new survey, nearly half (43%) of U.S. consumers said they'd find voice ads less intrusive than TV, print, online and social ads.
About as many (42%) also said they'd find voice ads to be more engaging.
And about the same number (44%) said they would buy more goods and services from a brand that made voice commands an option.
The survey was recently conducted by Adobe Digital Insights, a research unit of software vendor Adobe. Results were gathered from 1,025 U.S. consumers.
Other findings of the survey include:
> Celebrity speakers: Nearly a third (32%) of respondents said they'd like their voice-controlled devices to speak in the voice of a celebrity. When asked who they'd like to hear, the most frequently cited celebs were Dwayne "The Rock" Johnson, Will Smith, Arnold Schwarzenegger and Oprah Winfrey.
> Information, please: Nearly three-quarters of smart-speaker owners say they use their devices at least once a day. Top uses: playing music, getting weather forecasts, and asking fun questions. Shopping is still way down the list.
> Speak here: Consumers increasingly want to be able to use everyday devices with voice commands. Nearly a third (31%) say they look for voice commands when they shop for a new car. About as many (30%) want voice in music speakers. And one in four (25%) want voice on their TV.                                   
AI for HR
Human resources officers — already a pretty smart group — are starting to get help from artificial intelligence.
A new report from Gartner finds that at about 1 in 4 organizations, HR execs are now using or piloting AI for any of 3 main applications:
> Recruitment (aka "talent acquisition"): AI can help organizations receiving very high numbers of job applications and resumes, as well as those struggling to fill specialist positions. AI apps can analyze and interpret candidates' responses. They can also predict candidates' degree of fit and performance for both current vacancies and other potential roles.
> Employee engagement (aka "voice of the employee"): How happy and engaged are your employees? To answer this question, AI apps can examine not only traditional surveys, but also employees' social-media feeds, comments in internal collaboration tools, email messages and elsewhere.
It's a pretty sophisticated task, one that combines natural language processing, textual analysis and sentiment analysis. Done right, it can alert top managers to morale problems, especially during such stressful times as mergers and acquisitions, reorganizations and leadership changes.
> Virtual assistants: The goal, still off in the future, is to have an AI-powered front end for every HR process. That could include answering employee questions about rules and benefits, delivering insights on talent metrics, and conducting process-workflow steps.
Already, many of these applications are being enhanced with AI-powered chatbots. These chatbots are especially good at answering routine, frequently asked questions, such as, "Can I leave work early on July 3?" 
Back to top