If you serve the K-12 education market, get ready for a new wave of Windows PCs designed to compete with Chromebooks.
To be sure, school districts like Chromebooks, and no wonder. The devices are inexpensive, often retailing for less than $200. And since their applications reside in the cloud, Chromebooks don't need much in the way of extra software, further controlling costs. Many Chromebooks are also tough and rugged enough for classroom wear and tear.
Indeed, Chromebooks accounted for more than half of all PCs bought by U.S. K-12 schools in the first quarter of last year, according to FutureSource Consulting. During the same period, Windows PCs accounted for less than a quarter of all K-12 shipments, the market watcher adds.
Now Microsoft and several of its top hardware partners want to change all that. They're announcing cloud-based programs and new, low-priced PCs aimed at competing directly with Chromebooks.
The timing of the announcements may seem odd, given that we're in the middle of the school year. In fact, they're timed to coincide with 2 major educational conferences being held this week: the Future of Education Technology Conference in Orlando, Fla.; and the BETT Show in London.
Getting Intune
Today at the BETT Show, Microsoft announced Intune for Education. It's a cloud-based application and device-management service. Microsoft says the service makes setting up PCs in classrooms so easy, even teachers can do it. Default policies can be easily set for all devices and users in a class, school or district, Microsoft says.
Also, web and education apps can be deployed from the Windows Store, then assigned and deployed with Intune. Students see only the apps they've been assigned, no matter which device they're using. That's important because most schools use shared devices, rather than assigning one device to each student.
Microsoft Intune for Education is set to ship this spring, for $30 per device.
New hardware for K-12
Microsoft today also announced that several of its hardware partners — including Acer, HP and Lenovo — are offering new Windows 10 PCs for K-12 with prices starting as low as $189.
That $189 gets you the HP Stream 11 Pro G3 for Education. It's a notebook PC that can also be converted to tablet, tent or stand mode. Here's a look: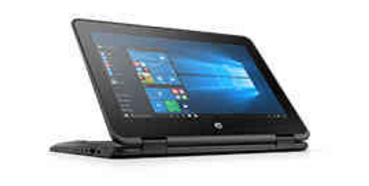 For a slightly higher $299, your clients can get Acer's new TravelMate Spin B118 notebook. Designed for classroom use, it features an 11.6-inch display, 360-degree hinge, Windows 10 Pro, a touch stylus to support Windows Ink, and up to 13 hours of battery life. Acer says the new notebook is also plenty tough for rough classroom use, thanks to a rubber frame, pressure-resistant screen, and a spill-resistant keyboard with a gutter underneath to handle coffee, water and whatever else. This device is set to ship in the second quarter.
Over at Lenovo, the company says it's "confirming its commitment to education." What that means, in part, is that Lenovo is updating several of its K-12 notebooks.
Lenovo's updated ThinkPad 11e devices will feature the latest Intel processors and brighter displays, the option of either Windows 10 or Google Chrome OS, classroom-tough displays and keyboards, and up to 10 hours of battery life. Shipments of the Windows version are set to begin in February with retail prices starting at about $520. The Chrome version won't ship until May, with prices starting at about $370. Here's a look at the new Lenovo ThinkPad 11e: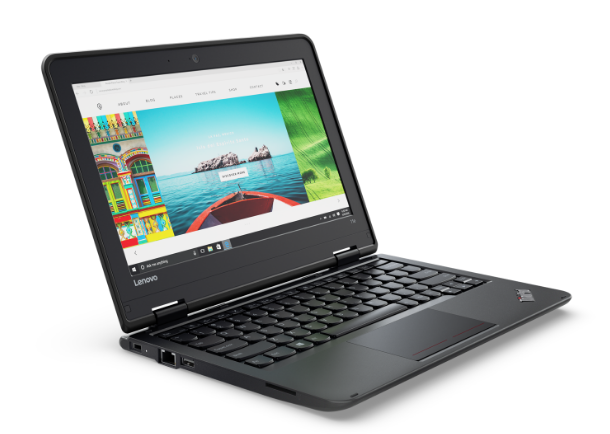 Lenovo is also updating its N series of Chromebooks, adding two models, the N23 Chromebook and N23 Yoga Chromebook. The N23 will ship next month, with prices starting at just under $200. The N23 Yoga will ship in April, starting at about $280.
Lenovo will also offer a model N24, designed in collaboration with Microsoft, that will run Windows 10 and support a touch pen. That device is set to ship mid-year, but pricing hasn't yet been announced.
So if you serve the education vertical, don't let your clients assume it's only about Chromebooks. Windows suppliers are now offering some exciting and competitively priced options.
You should also enjoy:
Why low-cost tablets are here to stay
Going IoT? Go vertical (markets, that is)
The Chromebook Opportunity for Solution Providers (chat deck)
Back to top