Developers of virtual and augmented reality systems just got some help from HP. The company announced new products, services and enhancements yesterday that should keep them happy.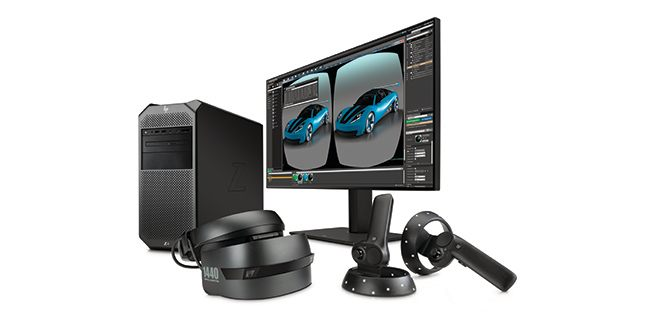 HP VR gear, including the Z4 Workstation and Mixed Reality Headset
Here's what's new:
> HP Z4 Workstation: It now supports Intel Xeon or Core X processors (up to 18 cores) along with 2 extreme graphics GPUs. The system comes with an operating-system choice of either Win10 Pro 65 or Red Hat Linux. It's available now and retailing for $1,500 and up.
> HP Windows Mixed Reality Headset - Professional Edition: A new product being added to HP's commercial VR portfolio. This headset offers 1440x1440 resolution per eye and up to a 90Hz refresh rate for what HP says is a "stunning immersive experience." As the name implies, the HP headset is designed to work with the Windows 10 Mixed Reality ecosystem. It's set to ship in March and will retail for $450.
> HP VR Launch Kit for Unreal Engine: A new service co-developed by HP and Epic Games, it's designed to accelerate VR development and optimize VR deployment for high-fidelity use cases. HP says it helps users quickly determine the optimal computer configuration and save time with Datasmith automating the optimization of 3D engineering assets. It also provides turnkey interactions for common processes, such as parts explosions and model cross-sections.
> Device as a Service (DaaS): HP is extending this offering for Virtual Reality solutions. HP DaaS is a modern service model that simplifies how commercial organizations equip users with the right hardware, support and lifecycle services to get the job done – improving end-user productivity, IT efficiency and cost predictability.
VR fast growth
All this comes at a time when the VR market is forecast to grow very quickly.
Market watcher IDC predicts that worldwide spending on augmented and virtual reality products and services will reach $17.8 billion this year — that's nearly 95% higher than the $9.1 billion spent last year.
Looking ahead further, IDC expects worldwide spending on VR/AR products and services from 2017 to 2021 will achieve a 5-year compound annual growth rate (CAGR) of nearly 99%. In other words, VR/AR spending will nearly double each year through 2021. (How many of your business sectors are doubling each year?)
Headset shipments are expected to grow, too. IDC predicts the number of VR and AR headsets will more than sextuple, rising from 9.6 million units last year to 59.2 million in 2021.
As for that Intel Core X-Series processor family now being supported by the HP Z4 Workstation, it's designed to scale for high performance. The processor family offers 4 to 18 cores for extreme performance, the latest technological advancements, and headroom for the future.
The Intel Core X-Series processor family also is designed to install Intel Optane memory and SSDs, 4K visuals, 4-channel DDR4 2666 memory, and Thunderbolt 3 connectivity. In other words, the latest, greatest gear.
If you have VR/AR developers on staff or among your customers, be sure to check out these new HP products and services:
HP Windows Mixed Realty Headset - Pro Edition QuickSpecs
Unreal Datasmith Engine (beta)
Back to top