That's a lot of money, even for Intel, which in its last fiscal year had revenue of $59.4 billion.
So why is Intel doing it?
Mainly, because Intel believes the market for autonomous vehicles will be huge. So huge, Intel doesn't want to miss out.
It was this past March when Intel first announced its intention to acquire Mobileye, an Israel-based developer of computer-vision systems. At the time, Intel also estimated that the autonomous-driving market — including vehicle systems, data and services — would be worth $70 billion by 2030.
Then in June, Intel added to that, saying it believes autonomous driving will spur a "passenger economy" worth $7 trillion. Intel also called this "one of the greatest economic opportunities of the twenty-first century."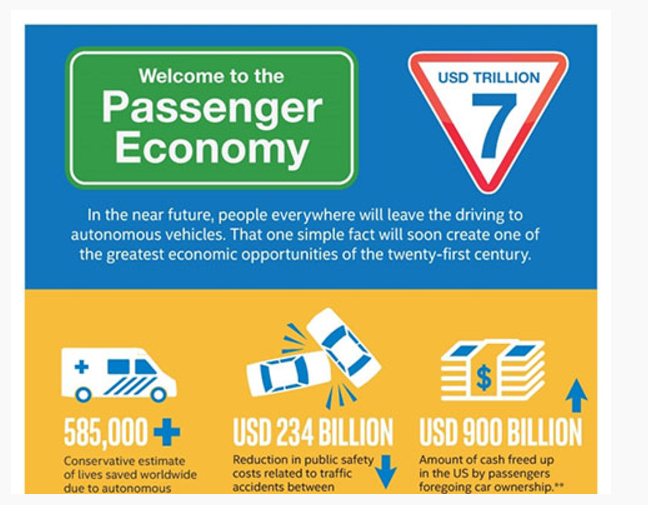 Intel predicts autonomous vehicles will lead to a $7 trillion "passenger economy."
Put it all together and you have a huge market opportunity, one that Intel executives believe they must be part of. As the company's CEO, Brian Krzanich, said earlier this week: "It's an exciting engineering challenge and a huge growth opportunity for Intel."
Fleet Footed
Intel has had quite week. On Tuesday, the company completed its offer for Mobileye. Then yesterday, wasting no time, Intel announced plans to build a fleet of 100 fully autonomous vehicles for testing in the U.S., Europe and Israel.
As Intel describes it, these self-driving cars will be filled to the gills with high tech. That will include 5G connectivity for car-to-cloud systems, computer vision, computer sensing, mapping and driving. "Neither company could do this alone," said Amnon Shashua, one of Mobileye's co-founders and now an Intel senior VP reporting directly to CEO Krzanich.
Intel mostly intends to keep Mobileye as a standalone subsidiary. The Mobileye brand will apparently be kept, as will all of Mobileye's 660 or so employees. The newly combined company will keep its headquarters in Israel, too.
For Intel, the acquisition is also important from the perspective of competition. Qualcomm, the top maker of chips for mobile phones, last year announced its intention to acquire NXP Semiconductors, a Netherlands-based maker of embedded applications, including what it calls secure connected vehicles. NXP is large, with 31,000 employees and annual revenue of $9.5 billion. Let the race begin.
Also see:
Intel pushes Optane memory for gaming systems
5G: coming soon to a network near you
Delphi joins Intel, BMW, Mobileye autonomous-car partnership
Back to top