The Intel Virtual Technology Conference is coming.
On May 15, the spring 2019 edition of this online conference will help you connect with other Intel technology partners. Learn more about the latest Intel products. Earn training credits and Intel Technology Provider (ITP) points. Even get a chance to win a valuable prize.
The spring 2019 Intel Virtual Technology Conference will feature dozens of streaming sessions. All designed to help you accelerate revenue, solve demanding technology challenges, and scale to grow.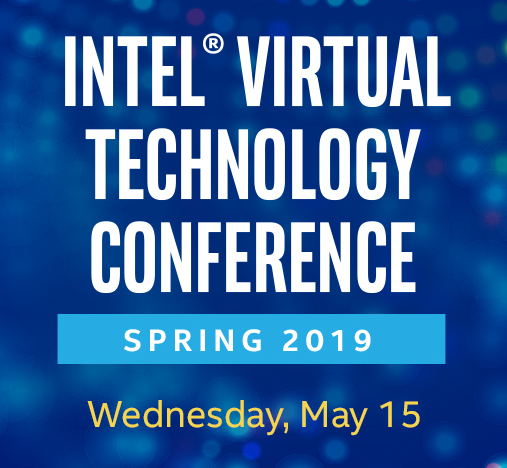 This conference is for you if you design, recommend, distribute or resell Intel products and solutions. There also will be sessions for business leaders, innovators, business-development teams, salespeople, marketers and engineers.
It's free to attend. To join the spring 2019 Intel Virtual Technology Conference on May 15, you'll simply log on from the device of your choice. Plus, you can pick and choose the sessions that meet your needs and fit your schedule.
Tech topics
Here are some of the technical topics that will be covered at the spring 2019 Intel Virtual Technology Conference on May 15:
> 9th Gen Intel Core processors: Including the first unlocked mainstream desktop processors for gaming
> Intel vPro platform: Transform device endpoints into strategic business assets
> Intel Optane memory solutions: Smart tech that accelerates a computer's responsiveness
> Intel Xeon Scalable processors: Workload-optimized CPUs for servers that support hybrid-cloud infrastructures and the highest-demand applications
During the conference, you'll be able to chat live with both Intel experts and your fellow technology partners and providers.
ITP members will earn 7 training credits per course attended, plus up to 100 points for just attending (up to 500 points per company). Later, you can redeem those points for your choice of the latest Intel technology or distributor vouchers.
Register now to attend the spring 2019 Intel Virtual Technology Conference on May 15.
Not yet a member of the Intel Technology Provider program? Learn more and register now.
Back to top