Is the Internet of Things your thing? Then get connected with the IoT trainings, webinars, competencies and badges on Intel Partner University.
Intel Partner University, launched late last year, is a component of the new Intel Partner Alliance. It offers a variety of training formats that you can use anywhere, anytime and from any device. And for all Intel Partners, it's free.
There's a lot on tap. For 5 main technologies — client computing, storage & memory, data center, FPGA and IoT — Intel Partner University today offers more than 560 training courses.
IoT training courses
For IoT alone, Intel Partner University currently offers more than 140 training courses. Here's just a sampling:
> IoT Foundations: A 1-hour introduction to IoT fundamentals such as recognizing the importance of data, components of the IoT stack, and data flow through an IoT solution.
> IoT device management with Intel: This 1-hour course covers topics including remote management of IoT devices, new out-of-band manageability with the Intel Atom platform, and the open-source AMT Tool Kit.
> IoT adaptive sales essentials: In this 1-hour course, you'll be prepared to conduct solution dialogues with your customers.
> OpenVINO Toolkit: Also a 1-hour course, this one will show you how to use this deep learning toolkit, along with an array of high-performance Intel Vision products, to gather data at the edge.
IoT competencies
Competencies, another offering of Intel Partner University, are deeper training curriculums. By completing a Competency and passing an associated test, you can earn a digital badge that you can share via social media. To be eligible for a badge, you must be either a Gold- or Platinum-level Intel partner.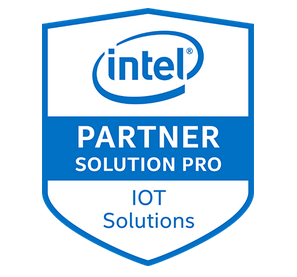 Here are the Intel Partner University Competencies currently on offer for IoT:
> Selling IoT Solutions: Learn how to sell IoT solutions. This course is available in several languages: English, Chinese (both simplified and traditional), German, Polish, Portuguese, Russian and Spanish.
> AI at the Edge: Learn how companies are combining AI and IoT to benefit from the data being generated by connected devices and sensors. The gains include improved production capacity, greater efficiency and lower operating costs.
Smarter education
The more you use Intel Partner University, the better it gets. Over time, the site uses its AI engine to recommend courses to you based on your role and interests.
Intel Partner University also assigns courses to you based on your training goals. And it shows you courses that are currently popular with your peers and colleagues.
If the Internet of Things is your thing, get smarter with Intel Partner University.
Not yet an Intel partner? Learn more about the Intel Technology Provider program and register now.
Back to top