The Intel Virtual Technology Conference is coming to a desktop, laptop, tablet or mobile device near you!
This bi-annual online conference has been developed to inform and educate the Intel Technology Provider community.
For professionals like you who are involved in designing, recommending, distributing or reselling Intel products and solutions, it's a conference not to be missed.
> When: October 11, 2018 | 7 a.m. to 4:30 p.m. PT / 10 a.m. to 7:30 p.m.  ET
> Where: Online | Free attendance for Intel Technology Providers.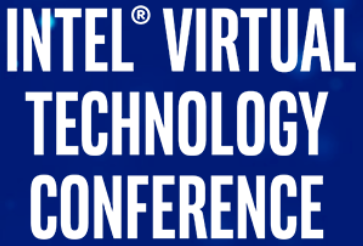 Not yet an Intel Technology Provider? Sign up now. It's simple. And it unlocks valuable benefits!
Learn disruptive technologies that drive revenue
At this conference, Intel Technology Providers will learn about the latest Intel NUC mini-PCs, AI, multi-cloud strategies, solid-state memory solutions, SDI, Intel Xeon Scalable processors, and much more.
There will be more than 30 streaming sessions, a sales and marketing track, and a technical track. All have been designed to help you accelerate new revenue.
Sessions are geared to help you:
> Gain a deeper comprehension of Intel products and their applications
> Understand the buyer's journey — and how to cater to it
> Obtain the right technical training to accelerate system development and deployment
Participating in this conference will strengthen your ability to drive digital business transformation across all industries.
Discover new technologies & program benefits
During the conference, Intel Technology Providers will be able to chat live with Intel representatives and other solution providers. You can discuss how to put new technologies to work.
Topics will include:
> Successfully packaging and selling device-as-a-service (DaaS) offerings
> Tips to drive the PC refresh cycle with business buyers
> The top 3 business security technologies you can implement for your customers
Also, you can attend an important 45-minute update on the Intel Technology Provider membership program. New benefits attached to the program are compelling. Listen in, and judge for yourself.
If you're an Intel Technology Provider program participant, you can earn up to 7 training credits for each session you attend. There's also an opportunity for your company to earn 100 points for each eligible person who attends — up to 500 points per company.
Don't be left out. Register now to attend the Intel Virtual Technology Conference on Oct. 11!
Back to top