The fifth generation of connectivity, better known as 5G, is poised to change communications as we know it. And Intel, not wanting to miss a beat, is making several big moves into 5G.
Today Intel announced that it will demo a 2-in-1 livestreaming video via an over-the-air 5G connection at the big Mobile World Congress 2018, which gets started in Barcelona next Monday, Feb. 26. The demo will be the first manifestation of a new collaboration, also announced today, between Intel, Dell, HP, Lenovo and Microsoft.
The companies are working together to bring 5G connectivity to Windows PCs with Intel XMM 8000 series commercial 5G modems. They expect the first of these 5G-connected PCs to ship in the second half of 2019.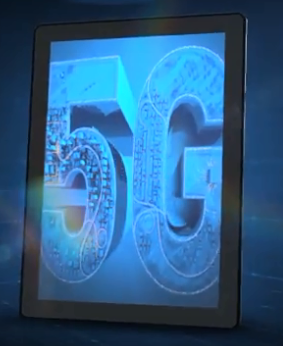 Also at MWC 2018, Intel and its partners will be giving demos of 5G for connected cars, media and entertainment, and smart city applications. 
Faster smartphone
Also today, Intel announced a multiyear collaboration with Unigroup Spreadtrum & RDA, a Chinese fabless semiconductor company. The two have agreed to develop a portfolio of 5G products for mobile platforms.
More specifically, Intel and Speadtrum say they'll develop Spreadtrum's first Android-based high-end 5G smartphone solution utilizing an Intel modem and Spreadtrum's application processor technology. This device is also expected to hit the market in the second half of 2019.
Olympics viewing
Intel also demo'd some nifty 5G gear at this year's Winter Olympics, now underway in South Korea. Attendees can view the action on their mobile devices, watching high-resolution images coupled with augmented reality for interactive data.
To make it all work, Intel set up 5G networks in the Olympics stadiums, captured digital images of the events from multiple angles, and then sent that data to nearby edge servers.
These servers, powered by Intel Xeon Scalable processors, process what's known as "time-sliced" views of the athletes. These videos then stream over the air on 5G links.
But wait, there's more. Last month, Intel — working with Deutsche Telecom and Huawei — conducted the world's first successful test showcasing 5G interoperability and development testing based on the Release 15 NSA 5G NR specification. That standard has been defined through collaboration of the world's telecommunication companies.
Promise of 5G
Why is Intel so excited about 5G? Because this new networking standard promises faster smartphones, new experiences in augmented and virtual reality, great improvements to both connected cars and smart homes — and possibly more.
"5G will enable innovative service offerings unbounded by today's infrastructure limitations and will spawn entire new industries," writes Sandra Rivera, a senior VP and GM of network platforms at Intel, in an online editorial posted today.
Because the 5G standard hasn't been finalized yet, the global 5G market is still small. But market researcher Netscribes predicts 5G sales worldwide will nearly double annually for the next 5 years, and then hit $251 billion by 2025.
That's a serious market. And Intel is getting serious about 5G. How about you and your customers?
Back to top