More than 45,000 members of the healthcare technology industry are gathering this week. They're in Orlando, Fla., for the 2019 edition of the HIMSS (Healthcare Information and Management Systems Society) global conference and exhibition.
Here's some of what they're learning:
Lenovo's healthy laptop
Lenovo used the big HIMSS show to introduce its first laptop dedicated to the healthcare industry.
The device, called the Lenovo ThinkPad T490 Healthcare Edition, is a 14-inch, 3.4-pound laptop powered by an 8th Gen Intel Core processor.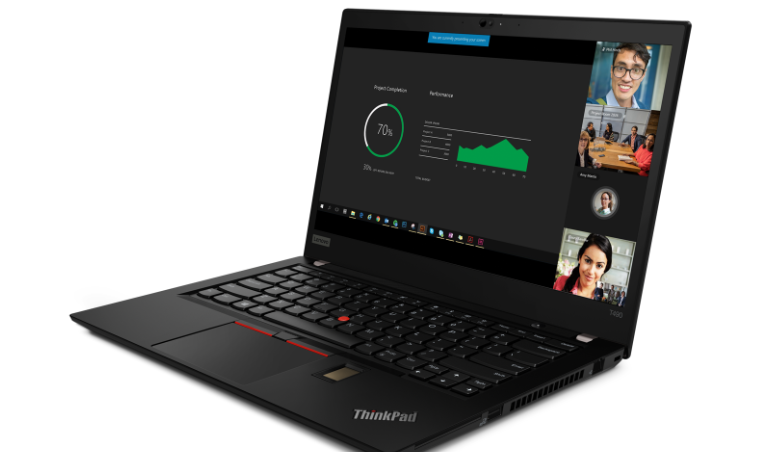 ThinkPad T490: Lenovo's first laptop for healthcare
Security is the big draw. Lenovo has loaded this ThinkPad with security protection including its ThinkShield and PrivacyGuard services; fingerprint and RFID (for ID badges) readers; and a webcam security cover.
First shipments of the Lenovo ThinkPad T490 Healthcare Edition are set for July. Lenovo hasn't announced a retail price yet.
Intel's AI partners
Artificial intelligence promises to be a transformative tech for healthcare. Intel is in the mix, working with several partners on AI-powered healthcare solutions, and it's highlighting their work at the HIMMS show:
> GE Healthcare: Its Edison AI platform takes data from millions of imaging devices to help radiologists identify patients with a collapsed lung.
> Philips: Has developed servers powered by Intel Xeon processors that can perform deep-learning inference on X-rays and CT scans without the need for hardware accelerators. For example, Philips says it has sped one bone-age prediction model by 188x.
> Montefiore Health System: Its Palm-in-a-Box AI solution combines a specialized platform for digital healthcare and a reference architecture based on Intel AI technologies that enables deep learning training and inference at scale.
Healthcare tech's generation gap
Members of the Millennial and Gen Z generations are more dissatisfied with healthcare than are members of the Baby Boom generation, finds a new survey from professional-services firm Accenture. That's making them more open to tech solutions, too.
When considering traditional in-person care, millennials are 2 to 3 times more likely than baby boomers to be dissatisfied with:
> Convenience of appointment times: 16% millennials dissatisfied vs. 6% boomers
> Location/channel of care: 13% vs. 4%
> Effectiveness of care: 12% vs. 4%
> Whether doctor prescribed expected medication: 10% vs. 5%
As a result, younger generations are more likely to choose medical providers with strong digital capabilities, Accenture finds:
> Provide mobile or online access to test results: 44% of millennials prefer vs. 29% of baby boomers
> Electronic prescription refills: 42% vs. 30%
> Booking, changing or cancelling appointments online: 40% vs. 19%
That said, healthcare tech is increasingly attractive to consumers of all ages. In Accenture's survey, nearly a third (29%) of all-aged respondents said they've used some form of virtual care — up from 21% in 2017
Similarly, half (51%) of all respondents said they use a wearable or mobile app to manage their lifestyle and healthcare conditions. And about the same percentage (53%) use virtual nurses to monitor health conditions, medications and vital signs.
To get its findings, Accenture surveyed more than 2,300 U.S. healthcare consumers over the age of 18 in late 2018. It defines Gen Z as those who are this year aged 18 to 21; Millennials as those who are now 22 to 38; and Boomers as now 55 to 73.
Back to top