Artificial intelligence is getting real: Organizations that have now either implemented or planned AI and machine learning (ML) projects expect their number of projects to more than double in the next year.
That's according to a just-released survey from analyst firm Gartner. It polled 106 members of its research circle, IT and business execs who have AI projects either implemented or planned.
Six in 10 of those surveyed have AI projects live now, for an average of 4 projects per organization. Respondents said they expect to add 6 more projects in the next 12 months, and 15 more projects in the next 3 years.
"We see a substantial acceleration," says Gartner research VP Jim Hare.
As this chart (courtesy of Gartner) shows, these organizations expect to have an average of 35 AI or ML projects in place by 2022: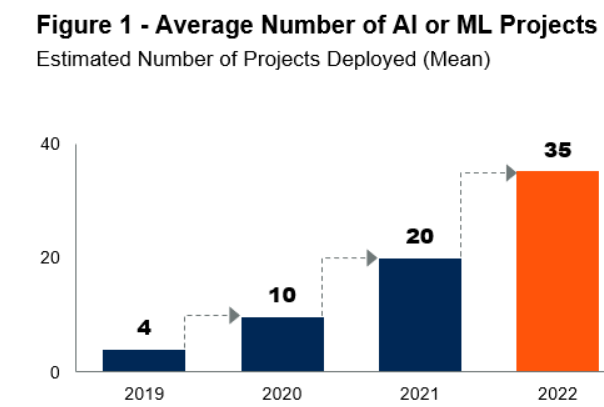 The 2 top drivers of AI/ML projects, according to Gartner's survey, are: customer experience — including decision support and making recommendations — and automating formerly manual tasks, such as invoicing and validating contracts.
And the top 3 challenges of AI implementations are: lack of skills (cited by 56%), understanding use cases (42%), and concerns around data scope or quality (34%).
Artificial intelligence, real world
Real-world applications of AI used to be speculative. Not now. In fact, they've become quite real. Here are 3 examples:
> IBM Watson at Wimbledon: The big tennis tournament, which wrapped up yesterday, uses lots of IBM AI. For example, one system produces a highlights reel within 2 minutes of a match's completion.
To do this, IBM Watson analyses live footage of player gestures and crowd reactions to instantly rank match highlights. Watson also listens for the sound of the ball striking a racket, as way to ensure highlights are clipped precisely.
IBM also delivers personalized match analysis to players within 20 minutes. This includes match analytics, insights and highlights.
> University Hospital Zurich: This Swiss hospital uses a ML system that proposes medical codes to human administrators.
Each time a patient visits the hospital, the patient's record must be updated with codes for factors including the patient's complaints, diagnoses and medical procedures. These codes are then used for invoicing and insurance reimbursements.
But with some 15,000 diagnoses codes, finding the right number can be time-consuming and difficult. The average patient receives 8 codes per vision; some get as many as 100. When this is done manually, errors are common and costly. The hospital estimates errors were costing it $1.1 million a year.
Now a ML system helps. The work started with a prototype that could handle the codes for 128 diagnoses, then expanded to 256, and then 1,000. Eventually, it will be up to the top 4,000 codes with a 99% accuracy rate.
> The Cosmopolitan: This Las Vegas hotel offers Rose, an interactive, AI-powered chatbot developed by digital marketing agency R/GA Chicago. Rose is savvy, quick-witted and inspiring — designed, the hotel says, to reflect the resort's mystique.
Rose can guide guests through art tours. She can arrange for the delivery of towels, pillows, and other goodies to guest rooms. She can also suggest restaurants, recommend cocktails, even plays games.
Using AI to solve an organization's tough business challenges? That's really intelligent.
Back to top