The smart cameras are coming! Intel has just introduced a smart camera that it's calling "a new class of standalone simultaneous localization and mapping device."
That's a mouthful, but what it means is that you can use Intel's new RealSense Tracking Camera T265 to support robots, drones, autonomous vehicles, augmented and virtual reality (AR/VR), and other applications.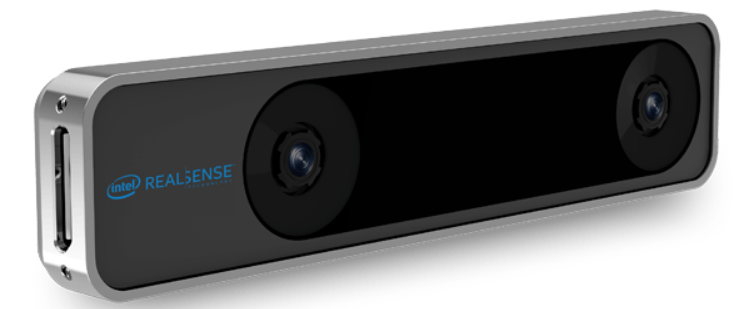 Intel's RealSense Tracking Camera T265: just 4.2 in. across 
It's cheap, too, with a retail price just under $200. Shipments are set to begin on Feb. 28.
Inside-out
The camera uses a technology known as inside-out tracking, which basically means the device does not rely on external sensors. Unlike other inside-out tracking devices, the new Intel camera employs 2 fish-eye cameras for feature detection, each with about 170 degrees of view.
The T265 camera also uses a proprietary Intel technology, called visual inertial odometry simultaneous localization and mapping, or V-SLAM for short. Intel says V-SLAM technology is important for applications that require a highly accurate, low-latency tracking solution.
Under the hood, the new T265 camera is powered by an Intel Movidius Myriad 2 vision processing unit (VPU). This second-gen device is used for AI, vision and imaging applications that need a combination of high performance and low power consumption. In the new T265 camera, it's optimized to run V-SLAM at low power.
Indeed, the camera's only hardware requirements are sufficient non-volatile memory to boot the device and a USB 2.0 or 3.0 connection providing 1.5 watts of power.
The new camera supports both Windows and Ubuntu Linux. There's also an open source API library, meaning other platforms can be ported. For example, Intel says the T265 camera has already been run on Android.
Seeing applications
How can you use this new camera? Intel says it should be especially useful for applications that need to track the location of a device in places, either indoors or outdoors, where a GPS is unavailable. For example, inside a warehouse, at some remote outdoor space, or in a hospital ward.
Just like the human eye, the new camera has its limits. It can't operate in total darkness. And it can be blinded by extremely bright, directly aimed lights. However, Intel says it can operate in low-light environments down to 15 lux.
Because the camera is small and light, it can also be mounted directly onto drones and robots, and used in connection with smartphones and AR/VR headsets. The T265 measures 108 x 24.5 x 12.5 mm (approximately 4.2 x 1 x 0.5 inches), and it weighs 55 g. (approximately 0.12 lb.).
Developing applications that need a tracking camera? If so, the Intel T265 could be the device you need.
Check out this Intel page for T265 pre-orders, tech specs, FAQ, SDK and other developer resources.
Back to top