It's that time of the year already! With both Christmas and New Year's falling on Wednesdays this year, a lot of people will be taking time off. Maybe that includes you. So how about catching up on your tech reading?
Here are our suggestions of 6 tech books for your holiday reading. All were published during 2019. Any could also make a great stocking-stuffer for the special techie in your life.
~~~~~~~~~~~~~~~~~~~~~~~~~~~~~~~~~~~~~~~~~~
>> User Friendly: How the hidden rules of design are changing the way we live, work and play
By Cliff Kuang with Robert Fabricant (MCD Books / Farrar, Straus & Giroux)
A secret paradigm is ruling our lives: Machines should anticipate what people need. The authors, both designers, assert that the world has been remade according to the principles of user-experience design.
Excerpt: "Today, alluringly designed gadgetry has remade the texture of everyday life, from how we make money to how we make friends to how we make babies. We now expect that the tools we use to diagnose cancer or to identify a problem with an airplane engine will be as simple to use as Angry Birds."
~~~~~~~~~~~~~~~~~~~~~~~~~~~~~~~~~~~~~~~
>> Hit Refresh: The quest to rediscover Microsoft's soul and imagine a better future for everybody
By Satya Nadella with Greg Shaw and Jill Tracie Nichols (Harper Business)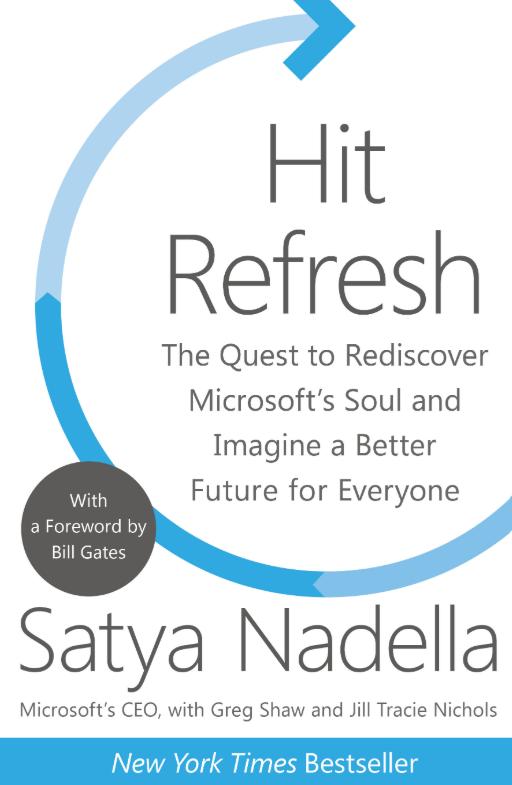 Yes, that Satya Nadella — the CEO of Microsoft. Here, he traces his own personal story against the trajectory of the computing giant. And predicts how the combination of AI, mixed reality and quantum computing will soon transform our lives.
Excerpt: "I joined Microsoft in 1992 because I wanted to work for a company filled with people who believed they were on a mission to save the world."
~~~~~~~~~~~~~~~~~~~~~~~~~~~~~~~~~~~~~~~
>> The Mysterious Affair at Olivetti: IBM, the CIA and the Cold War conspiracy to shut down production of the world's first desktop computer
By Meryle Secrest (Penguin Random House)
This story, never before told, reveals how Olivetti's P101 desktop computer embroiled the company in an international struggle over politics and business involving both IBM and the U.S. government. Author Secrest is hardly a wacky conspiracy-theorist; in fact, she's the author of book-length biographies of Steven Sondheim, Leonard Bernstein and Frank Lloyd Wright.
Excerpt: "People describe Adriano Olivetti as an idealist, a futurist, a visionary, profoundly moral, with an uncanny ability to fulfil his dreams."
~~~~~~~~~~~~~~~~~~~~~~~~~~~~~~~~~~~~~~~
>> Human Compatible: Artificial intelligence and the problem of control
By Stuart Russell (Penguin Random House)
The author, an AI researcher, argues that our relationship with AI needs to be totally reconsidered. Mainly because AI could soon become smarter and more powerful than any humans. What then?
Excerpt: "…betting against human ingenuity is foolhardy, particularly when our future is at stake. Within the AI community, a kind of denialism is emerging, even going as far as denying the possibility of success in achieving the long-term goals of AI."
~~~~~~~~~~~~~~~~~~~~~~~~~~~~~~~~~~~~~~~
>> You Look Like a Thing and I Love You: How artificial intelligence works and why it's making the world a weirder place
By Janelle Shane (Voracious / Little, Brown & Co.)
If Russell's book sounds like a downer, Shane's could be the perfect antidote. In this lighthearted introduction to AI, the author – who holds a doctorate in electrical engineering — explains how it's possible for a computer to design the perfect sandwich, generate Harry Potter fan-fiction, and even create a first-rate Halloween costume.
Excerpt: "If it seems like AI is everywhere, it's partly because 'artificial intelligence' mean lots of things, depending on whether you're reading science fiction or selling a new app or doing academic research."
~~~~~~~~~~~~~~~~~~~~~~~~~~~~~~~~~~~~~~~
>> Beyond the Valley: How innovators around the world are overcoming inequality and creating the technologies of tomorrow
By Ramesh Srinivasan (MIT Press)
Author Srinivasan, a professor of information studies at UCLA, makes the case that the internet's most uplifting promises are being fulfilled far from the confines of Silicon Valley. It's in far-flung Mexico, China and West Africa that remote design labs are empowering the technological have-nots and creating a more democratic internet.
Excerpt: "Many of today's technologies come to us for free. But in return, our personal lives come 'for free' to these technologies….Yes, when we search Google we look for information, but do we realize that Google is also searching us?"
Back to top